Patios are a beautiful and pleasant addition to any home, providing an outdoor living space that allows you to relax, entertain, and enjoy the beauty of nature. Whether you need a place to host dinner parties, soak up some sun, or simply unwind after a long day, a well-designed patio can transform your outdoor space into a haven of comfort and relaxation. With endless design possibilities, materials, and accessories to choose from, designing your dream patio is an exciting and rewarding process.
This blog has provided some creative and innovative design ideas for your patio designs. We have also explained design considerations for patios that you can follow.
Create an Attractive Patio for Your Home
You can engage one of the patio contractors in Somerset, who can work with you on designing and constructing an attractive and value-adding patio. Here are some design ideas for patios that you can use:
Cosy Seating Area:
A cosy seating area is a perfect addition to any patio. Choose comfortable outdoor furniture, such as plush sofas and chairs, and add colourful throw pillows and a decorative rug. Hang string lights overhead to create a cosy ambience and add warmth to your outdoor space.
Dining Area:
A dining area is an ideal way to entertain outdoors. Choose a large dining table and chairs that match your patio's style and add a decorative centrepiece, such as a vase of flowers or a decorative bowl. Hang a chandelier overhead for a touch of elegance, and install outdoor curtains to create privacy and shade.
Outdoor Kitchen:
The outdoor kitchen is a perfect addition to any patio, allowing you to cook and entertain outside. Include a built-in grill, sink, countertop space, and storage cabinets. Add bar stools for seating and a mini-fridge to keep drinks cool. You can also add a pizza oven, smoker, or any other appliances you enjoy using.
Fire Pit:
A fire pit is an excellent way to add warmth and ambience to your patio. Choose a style that matches your patio's design and surround it with comfortable chairs and benches for cosy seating. You can further add some decorative elements, such as stones or tiles, to enhance its visual appeal.
Water Feature:
A water feature can add a soothing and tranquil atmosphere to your patio. You can consider adding a small fountain or pond to create the calming sound of flowing water. You can also add some fish to the pond to create a beautiful natural ambience.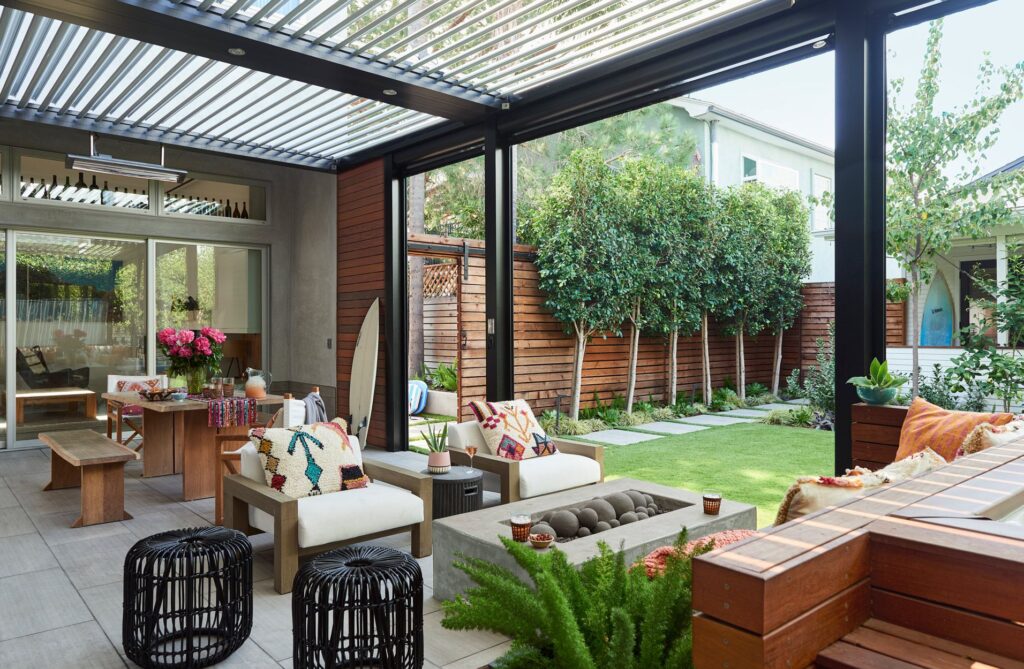 Hammock:
A hammock is a perfect addition to a small patio, creating a relaxing spot for reading, napping, or just enjoying the outdoors. Hang it from a sturdy tree or install a freestanding hammock stand, and add some colourful throw pillows and blankets for added comfort.
Outdoor Bar:
If you enjoy entertaining, consider adding an outdoor bar to your patio. Install a bar top and stools, and add shelves for glassware and bottles. Hang a decorative sign overhead to give your bar a fun and festive vibe, and add some decorative elements such as colourful lights and banners.
Vertical Garden:
A vertical garden is a perfect addition to a small patio, adding colour and life to your space. Hang planters on the walls or install a freestanding trellis, and choose plants that thrive in your climate and require little maintenance. You can also add some herbs to your vertical garden to enhance your cooking experience.
Design Your Patio Floor
The design of your patio floor is crucial in creating the overall aesthetic of your outdoor living space. Here are some popular patio floor designs to consider:
Concrete: A classic and cost-effective option, concrete provides a durable and versatile surface for your patio. It can be stamped, stained, or painted in a variety of patterns and colours to create a unique look.
Brick: A timeless and charming choice, brick provides your patio with a warm and inviting feel. It can be laid in various patterns, such as herringbone or basket weave, to create a classic or contemporary look.
Pavers: Pavers are available in a range of materials, including concrete, stone, and clay, and can be arranged in various patterns, such as running bond or circular, to create a beautiful and functional patio. You can hire block paving contractors in Somerset who can help you in selecting and installing pavers.
Natural Stone: Natural stone, such as slate, flagstone, or limestone, creates a stunning and unique look for your patio. It's a durable, cost-effective option that adds a natural and rustic feel to your outdoor space.
Wood: Wood provides a warm and natural look for your patio and is a popular choice for a rustic or country-style outdoor living space. It requires to be maintained regularly to prevent weathering and rotting but can be stained or painted to match your style.
Tile: Tile provides a sleek and modern look for your patio and is available in a range of materials, including ceramic, porcelain, and natural stone. It's a durable, low-maintenance option that can be arranged in various patterns and colours to create a unique design.
What to Consider Before Designing Your Patio?
Before designing your patio, there are several factors to consider. Here are some things to look for:
Space and Location: Determine the size and location of your patio, taking into account the available space in your outdoor area, the amount of sun exposure, and the view.
Purpose: Consider how you plan to use your patio. Will it be a space for entertaining, dining, relaxing, or gardening? This will help you determine the layout, furniture, and accessories needed for your patio.
Budget: Set a budget for your patio design and determine what features you can afford. Consider the cost of materials, furniture, lighting, and any professional services you may need.
Materials: Choose durable and weather-resistant materials that fit your style and budget. Options include concrete, brick, pavers, natural stone, wood, and composite materials.
Style and Design: Determine the style and design of your patio based on your personal taste and the architecture of your home. Look for design inspiration online, in magazines, or at your local home improvement store.
Maintenance: Consider the maintenance required for your patio. Choose materials and plants that require little maintenance if you prefer a low-maintenance outdoor space.
Lighting: Add outdoor lighting to your patio to create an ambience and enhance safety. Choose from string lights, lanterns, spotlights, or solar-powered lights.
Landscaping: Add landscaping features to your patio to enhance its beauty and provide privacy. Options include hedges, plants, flowers, trees, or a trellis.