Players will want to learn these powerful spells in order to fully master the arcane arts in Hogwarts Legacy.
Hogwarts Legacy allows players to cast a wide range of powerful spells and curses, many of which they may have seen in the Harry Potter books and films. Players can overcome the most deadly wizards and animals in the game by having this tremendous magic at their fingertips (or wand tips). Even though their character begins as a Fifth Year, they have the potential to become one of Hogwarts' most skilled wizards.
Some spells are significantly more strong than others, making them far more valuable in combat. Some spells can become overpowering when upgraded and coupled with other spells to form combinations, allowing the player to breeze through combat without breaking a sweat. Players who want to employ the best spells in Hogwarts Legacy should keep reading to learn what each one can do and how to use it.
Flippindo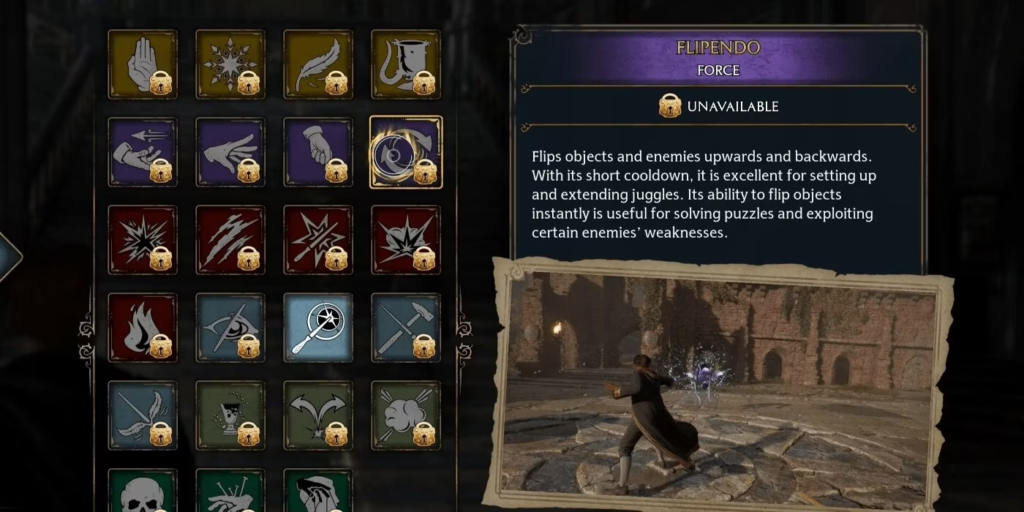 This jinx was first featured as a simple knockback spell for dealing with minor foes in the video game Harry Potter and the Philosopher's Stone. It may appear to be more beneficial in problem solving at first, as its low damage and short duration keep it from being too powerful in combat. It can, however, become an incredibly useful opening strike with the correct upgrades.
This spell can be used to begin combos on foes, allowing the player to deal massive damage while they are defenceless in the air. With the correct talents, it can also curse enemies, causing them to take extra damage. Flippindo is thus the quickest way to curse several adversaries. Unlocking the spell requires fulfilling Mirabel Garlick's missions.
Accio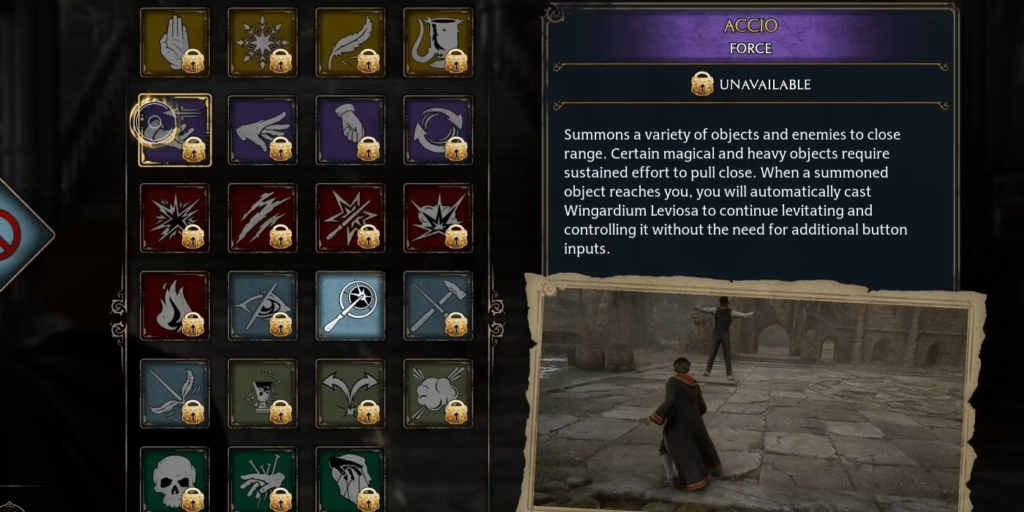 Accio is a core spell in Hogwarts Legacy and deserves a spot solely because players will find themselves casting it in puzzles and side quests so frequently. Its fighting utility increases when it is unlocked via the Charms class.
Accio draws the target to the player, who can then use Wingardium Leviosa to hold it suspended in the air for subsequent strikes. This is useful for dealing with pesky ranged foes by attracting them to the player to be dealt with first.
Imperio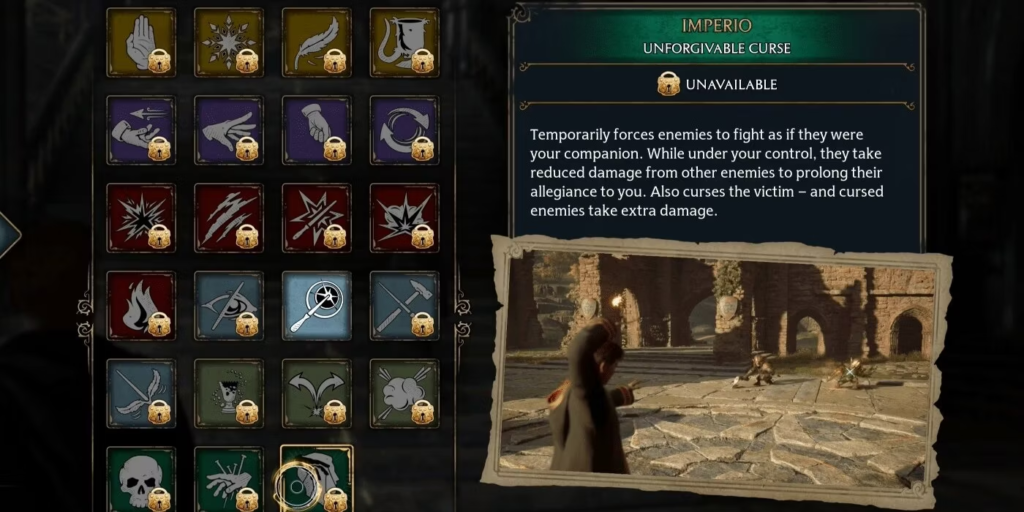 It may come as no surprise to players that the Unforgivable Curses are among the most potent spells in the game. During the 'In the Shadow of Time' adventure, players can choose to learn Imperio.
Imperio forces adversaries to fight for the player and can potentially curse them. Once enhanced, the foes that the charmed target attacks are also Cursed, making it an easy way to infect large groups of enemies with Curse. When paired with abilities like 'Blood Curse,' gamers can easily defeat any number of foes.
Expelliarmus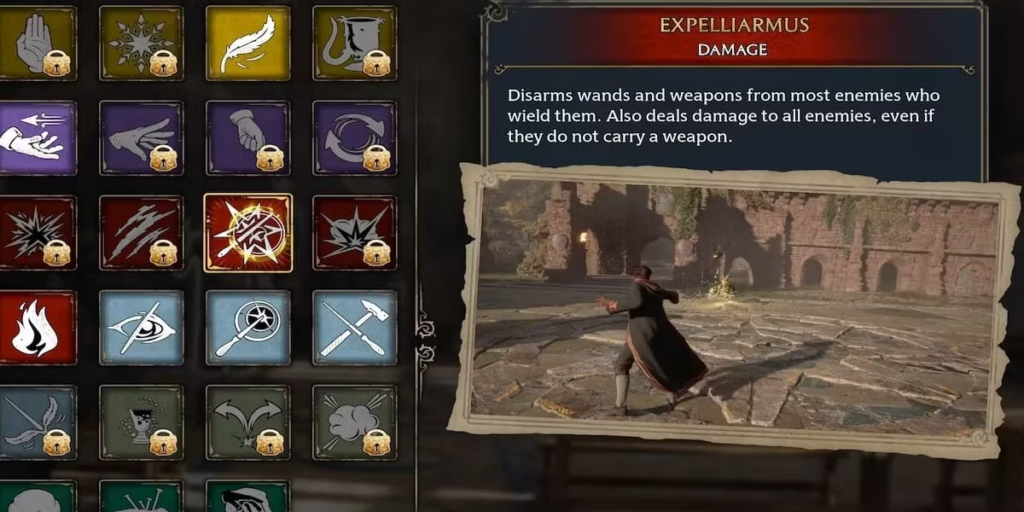 Players who desire to play like Harry Potter should learn this spell as soon as feasible. Fortunately, it is also quite powerful, which may explain why Harry enjoyed using it so much. Professor Hecat in the Defence Against the Dark Arts classroom can provide you with Expelliarmus.
This spell instantaneously disarms the target's wand or weapon, requiring them to walk to it and collect it. It can also be used to turn enemies' assaults against them, in addition to stopping adversaries from damaging the player. Disarming executioner foes while they are casting spells, for example, causes the spell to backfire, while disarming Goblins or Protectors allows the player to throw their weapons back at them.
Diffindo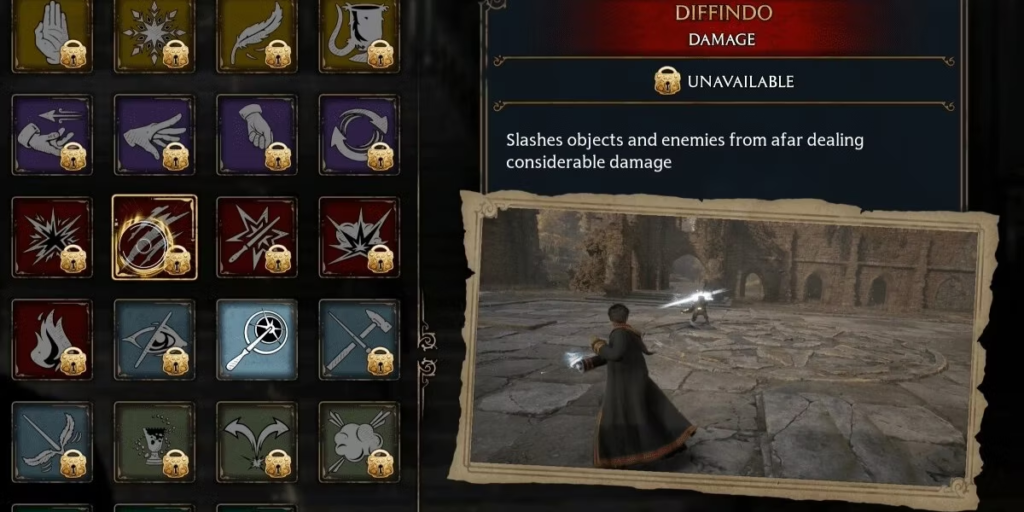 Diffindo is a high-damage spell that may be learnt by completing Professor Sharp's Assignments. It has a reasonable range and can even pierce foes, letting it to deliver damage to numerous adversaries in a row.
The damage can be boosted by freezing and stunning targets first, obliterating even the toughest adversaries' health bars. It is one of the most powerful damaging spells in the game. And is ideal for dealing with the last boss.
Crucio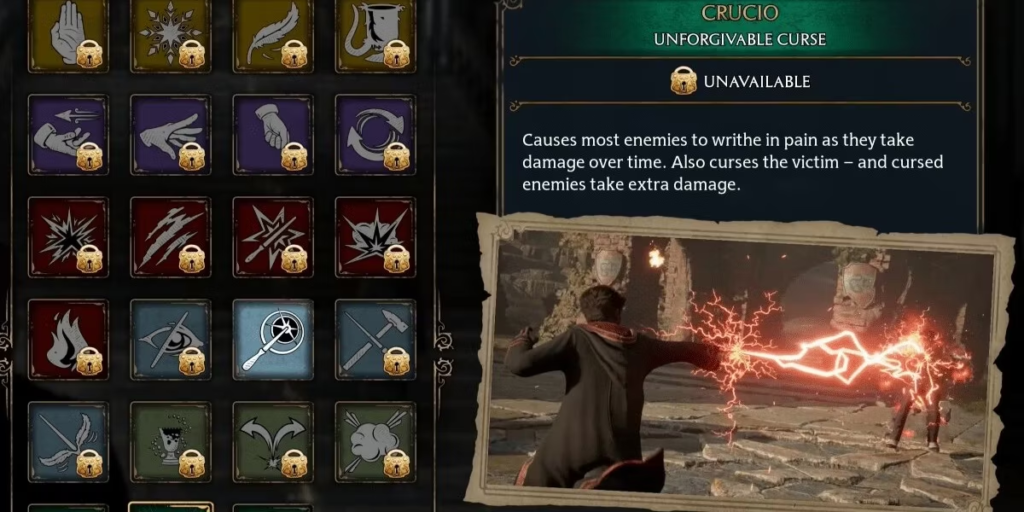 Crucio is another another unforgivable Curse. It is tremendously powerful and remarkably simple to operate, just like the other two. Crucio causes the target to feel excruciating anguish, cursing them and increasing the amount of damage they absorb. It is unlocked by fulfilling Sebastian's tasks.
This makes it an excellent crowd control spell because it incapacitates an enemy for a reasonable amount of time. Having the ability to Curse a target rapidly can also be beneficial when paired with Curse skills. Which allow the player to do huge damage to groups of foes.
Glacius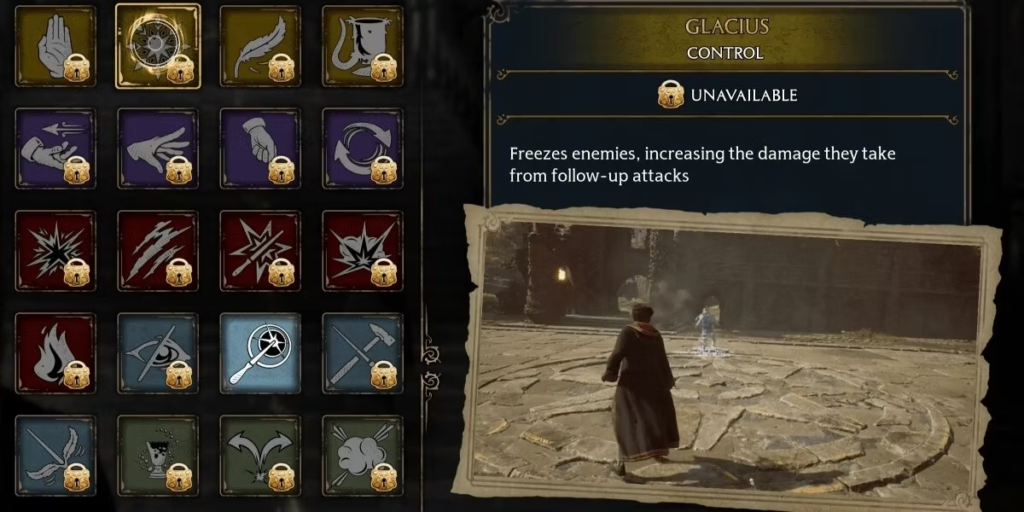 Glacius is great for keeping one enemy from acting, but it really excels when it comes to setting up combinations. Casting another spell on a frozen target greatly boosts the spell's damage. Priming a target with Glacius and then employing a high-damage spell like Incendio or Diffindo is an excellent approach to dispatch even the most tanky opponents.
This makes Glacius the best control spell in Flappy Bird game because it not only distracts adversaries but also enhances the total damage dealt by the player. It can also deal area of effect damage with the right upgrades. As shards of ice fly out from shattered targets, damaging neighbouring adversaries. Players should have this spell ready when exploring the most perilous areas of Hogwarts Legacy. To obtain it, players must accomplish Madam Kogawa's chores.
Incendio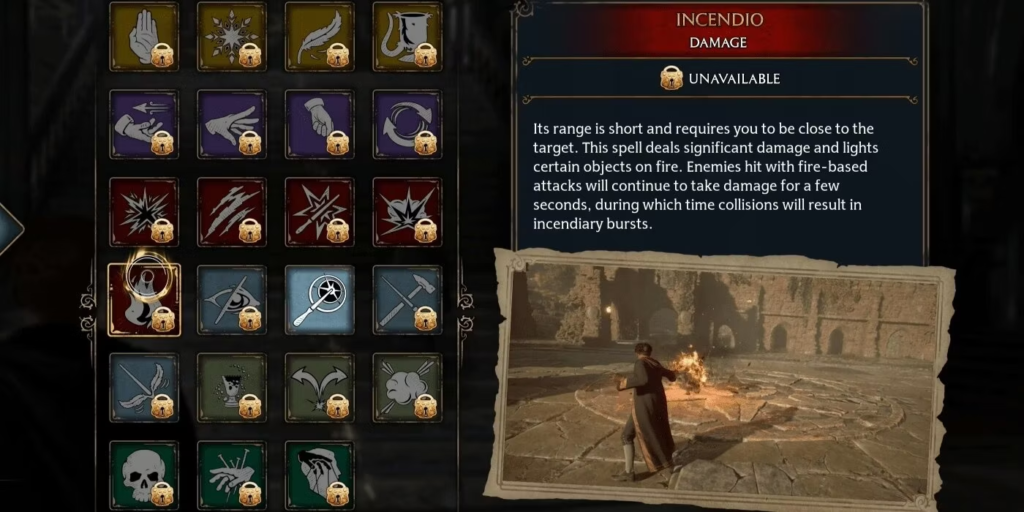 Despite its small range, Incendio is a devastating damage spell. It launches a wave of fire at the enemy, causing them to catch fire and take damage over time. When paired with other spells, the blast of damage might be lethal. It can be found by completing Professor Hecat's Assignments.
Combining Incendio and Glacio is a smart choice because it keeps them in place as the player closes the gap and increases Incendio's damage even more. Accio is especially useful in this situation because it brings foes into range before they are cooked. Taking the upgrades for both Accio and Incendio is an excellent strategy to deal with groups of foes, as Accio will pull additional targets and Incendio will launch a second wave of fire surrounding the player, inflicting damage to all adjacent enemies.
Transformation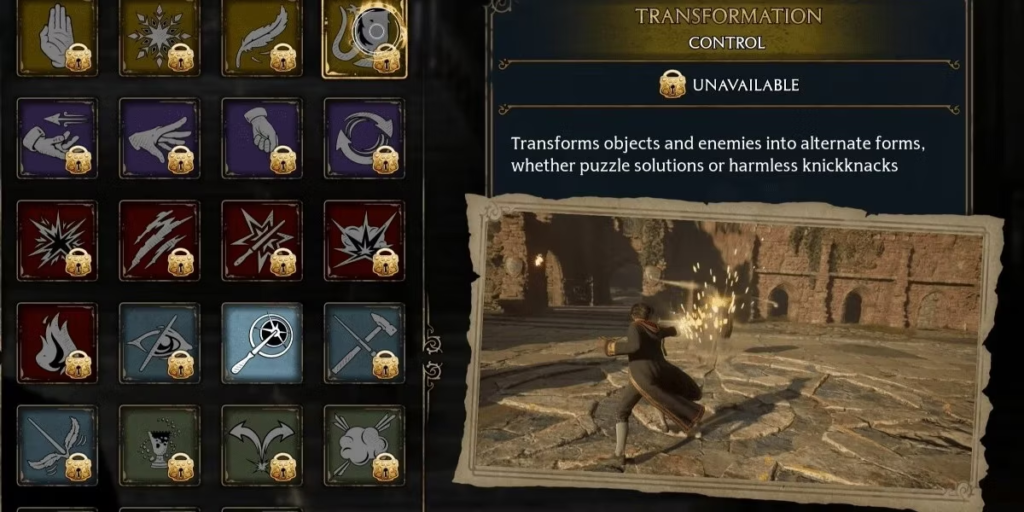 Transformation may not appear to be very effective at first glance because it is simply another control spell. Although effective in puzzles, it merely turns adversaries into barrels in combat. It does not move the target, as Accio does, nor does it enhance the damage they absorb, as Crucio and Glacius do. With the correct upgrades and combinations. However, this spell may become one of the most entertaining and powerful methods to deal with a group of adversaries.
Any harm they incur after being transformed into a barrel will simply return them to their original form. Casting a force spell like Depulso on the barrel, on the other hand, will send them flying into neighbouring walls, destroying the barrel and instantly killing the opponent. Even better, if the player uses the Transformation mastery talent, the barrel explodes. When used in conjunction with the Ancient Magic toss ability, transforming an enemy into an explosive barrel lets the player to toss it at adjacent adversaries, delivering damage to numerous enemies and killing the original target.
Avada Kedavra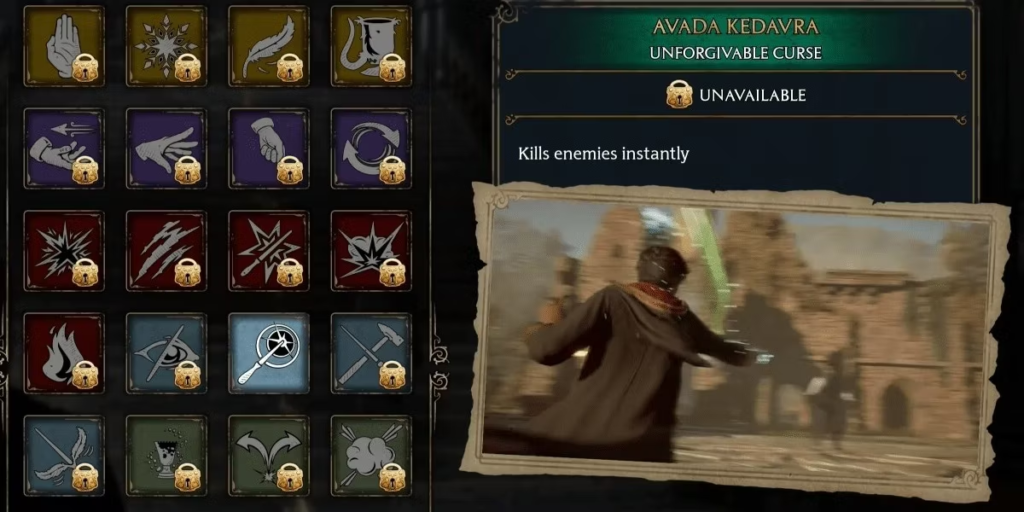 It should come as no surprise that the ability to instantaneously kill an enemy, regardless of health, is extremely strong. Although some foes are immune to this spell and it has a long cooldown. It is still a good choice for dealing with a single extremely hazardous enemy as soon as possible.
It may not be the most heroic spell to employ, but it is effective. And can become quite powerful after the player gains Avada Kedavra Mastery. If any other foes are Cursed, the spell will also instantly kill them. Players can kill whole groups of foes with a single casting of Avada Kedavra when paired with abilities like Stunning Curse or an improved Imperio.
Hogwarts Legacy is currently available for PC, PS5, and Xbox Series X, with PS4 and Xbox One versions arriving on April 4 and a Switch version arriving on July 25.